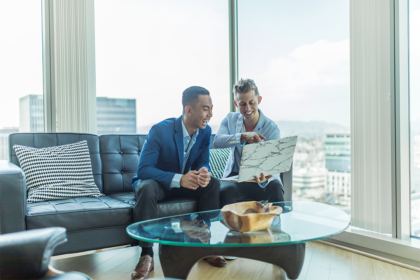 Gara Group's founder, Kosta Gara, identified what divides 7-figure earners from 5-figure earners after being in the direct sales industry for decades. There are many traits that add to someone's success, especially at a level of 7-figures; however, to reach the elite 1%, only three characteristics are necessary: being a giving person, having a passion to teach others, and being persistent.
What's interesting is how often 7-figure earners have these three traits and don't realize it. Kosta has spoken with many corporate leaders over the years, and many did not notice their use of these traits until it was pointed out to them. In fact, the characteristics seemed to come naturally to them.
Having any of these qualities will be beneficial on your way up, but having all three is the key to reaching 7-figures.
TO GIVE
Registered nurses do many things on a typical workday, but all of it revolves around one thing: giving. Without the incentive of bonuses or tips, they do nothing but provide care to others. This is because giving is an innate quality in them.
The most successful people generally put the wellbeing, happiness, and success of others before their own. Sincerely helping others succeed is a great way to achieve your own success. Long-term success comes from knowing how to give.
TO TEACH
An educator's responsibility involves ensuring students retain knowledge of the foundation of subjects so they can identify facts and analyze opinions. It's well-known that the academic industry is a low-paying one, yet there are still people who take on the role. Wanting to educate others is an innate quality they possess.
People who are interested in investing their time and effort in their team or apprentices are more likely to succeed. By teaching others about business values and fundamentals, you are investing in your own long-term success. This is why 7-figure earners typically are invested in their team's professional growth.
TO BE PERSISTENT
Anyone in real estate knows the average ratio of showing houses to selling houses is about 10:1. If you show four houses and sell one, you revel in your productivity. On the other hand, showing 20 without a single house sold can make many feel discouraged. A successful real estate agent, however, would not let this get them down. The key is persistence: the final characteristic of a 7-figure earner.
Kosta Gara believes persistence is one of the greatest characteristics you can have, if your goal is to become a millionaire. It's a trait that pays off well in the industry.
CONCLUSION
You might have all of these characteristics right now, but the trick is to be aware. Make sure to consciously apply these traits to your professional and personal life. If you only have one or two of these traits, or if you don't have any, work to adopt all of them. Commit to the value behind each trait and let them lead you to becoming a millionaire.
Next time you meet a 7-figure earner, pay attention. Observe their characteristics and you'll notice these traits: giving, teaching, and persistence. If you're looking for some guidance on how to apply these traits to your life, read Kosta Gara's book "Organic Networker" or visit www.organicnetworker.com to learn tips and techniques to master these traits and more!
If you don't have the time to dedicate to learning these traits, let us help! Gara Group consists of generous, knowledgeable, and persistent professionals who are experts in the industry. This is one of the many factors that sets us apart from competitors. We know what it takes to succeed, so give us a call!