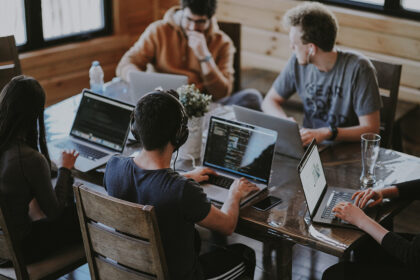 So, you've decided to take advantage of one of the most powerful business models out there, but where do you start? Besides your employees and distributors, your backoffice will be the engine of your business. In this post, not only will you learn what a backoffice requires, but we'll share all the other aspects of running a successful business because we truly care!
HIRING ONE vs HIRING MANY
Finding one partner specializing in direct sales to run all your backoffice logistics is the most efficient way to stay ahead in today's modern business world. To ensure your business runs seamlessly, all moving parts must work together; yet, many company Founders resort to outsourcing services to multiple companies. Technology, customer service, design, social media, publishing, and event planning are among the ever-expanding list of services being outsourced today.
Outsourcing services can seem like a simple solution, but it can cause unnecessary problems that otherwise could have been avoided. For example, if one company experiences an issue, it is likely other areas in your business will be impacted; now your time is spent making calls to all your outsourced service providers, resulting in massive disruptions to your business and affecting clients and distributors.
Hiring one company to manage all your departments and services means you only make one call if something goes wrong. This saves you time, and in this industry, time cannot be frivolously spent, especially when you have thousands of distributors world-wide that rely on their backoffice.
WHAT "ALL-INCLUSIVE" SHOULD OFFER
A company that specializes in providing services specifically for direct sales is highly recommended. Why? Because you need a company that understands your compensation plan in order to build the robust backoffice your company requires. This includes software, design, site hosting, social media management, administrative services, payout, distributor accounts, front-end, back-end… Any and all aspects of direct sales business development and management can (and should) be run by a single company to avoid disruption to your business.
Find a company that offers customization and scalable options; this is most favorable for a business planning on growing globally. You also want to ensure the company you choose includes data-rich analytics and forecasting tools. Sites and programs should be mobile-friendly, user-friendly, and easy to read. Videos should be up-to-date, short, and visually appealing while speaking to potential consumers/distributors.
Social media platforms are an efficient way to reach and encourage clients and distributors; find a company that integrates with dozens of platforms, and has a dedicated team to engage with users.
Other examples of services an all-in-one solution company should offer include customizable genealogy trees, compensation plan builds/re-builds, cloud-based technology and software, shipping and logistics, event coordination, video production, multilingual support, branding, integration with tax compliance forms and merchant account providers, lead generation, customer service, and training for new distributors.
LOOK OUT FOR INCREASING RATES
For your company to grow, you need to have an affordable backoffice with the latest technology so it can easily adapt to your needs as your business changes. Some service providers, however, follow tiered pricing which charges you more as your sales increase. Although you might begin with an affordable rate, you end up paying more than you should as your business develops, and to us, that doesn't seem fair. Gara Group offers three packages with different flat monthly rates, depending on what fits your needs; whether your company makes $500,000/month or $10 million/month your rate will stay the same!
CONCLUSION
Whichever all-in-one company you choose to partner with, make sure it's a company like Gara Group with a plethora of marketing skills and decades of direct sales/MLM experience (in-field, corporate, and as a vendor). Companies such as ours specialize in providing this and so much more, with white-glove service and support year-round.
When you partner with the right company to manage, organize, and develop all your moving parts, you can focus on what really matters most: sharing your vision globally and helping millions achieve their dreams, while you turn a profit! If you feel we may be the right fit for you, contact us today and allow us to share how we can make your vision become a reality!
---